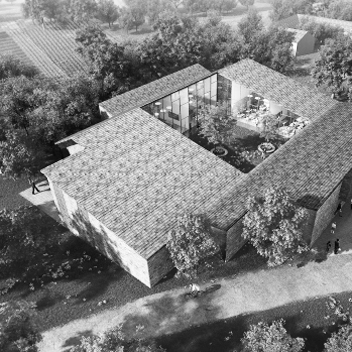 Slow Village / The Chengdu Anren Qiyan Village Project
(Design)
SEEDS OF CULTURE is a strategic project to mitigate the problems brought by the rapid urbanization of the countryside and the relocation of the rural communities from the countryside to developed cities. The intention is to value and protect the cultural heritage of the environment and fortify its identity in order to make the rural areas more attractive and livable for the local population. The prototype project focuses on three tools, which serve as devices to raise awareness around the cultural legacy that these rural areas can offer to modern society. The design includes a Museum as 'collector' of local traditions and cultural heritage, a Primary School as 'nurturing' for the young generations, and a Library as 'carrier' of knowledge. SEEDS OF CULTURE aims to provide instruments to educate the community and grow awareness of its traditions and how to value them for the future.
Stefano Boeri Architetti
Stefano Boeri is the founder and partner of Stefano Boeri Architetti (SBA), holding offices in Shanghai and Tirana it is dedicated to the research and practice of architecture and urbanism since 1993. He co-founded SBA China with his Chinese partner Dr. Yibo Xu.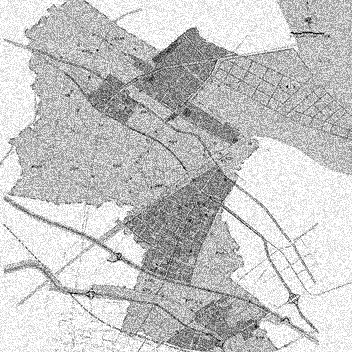 Slow Village / The Chengdu Anren Qiyan Village Project
(Planning)
The Anren Qiyan Slow Village is the first practical case developed as part of the Slow Village Co-building Plan and it is located in the north of Anren Township, Dayi County, Chengdu City. The rural water system and forestry features in the west of Sichuan provide the village with rich natural resources. Its unique culture and chili food cuisine have made Anren an attractive tourist spot. The plan for Anren Village is focused on leveraging space quality, food safety and biodiversity, the preservation of the original local culture and the natural scape, reforestation, renovation of the watercourse and improvement of its infrastructure. The plan also aims at accommodating and securing the presence of the village's indigenous people and their production spaces. Villagers will so engage in tourism services, agricultural activities, business operation in concert with the development of the 'slow village'.
M+ Design
M+ Design is an international research center, planning and design institution dedicated to sustainable development. It actively participates in theoretical and practical solution-making for urban and rural rejuvenation strategies across different Chinese regions.
Anthony Chen
Chen Anhua has dedicated his research to integrated planning across the rural and urban divide for years, looking at building models of sustainable development for thereof based communities. He is the chief planner of the Slow Food Co-building Plan project.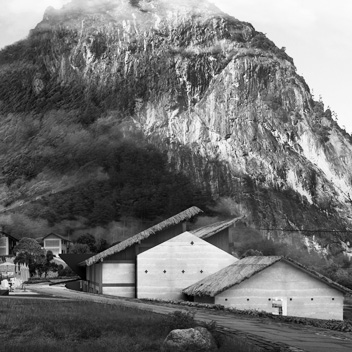 Slow Village / The Zhejiang Suichang Chayuan Village Project
Popular folklore tells us that the Tea Garden Natural Village in Xitan Village (Longyang Township, Suichang County) was "the source of Qiantang River and Ou River, a sea of forests in South Zhejiang". The village is enveloped year-round in clouds and fog, which, together with the locally practiced traditional martial arts and the tea gardens, has made it an attraction for tourists. Since the beginning the plan was to break the monotony of the current dwellings from plane functionality, while needing to reorganize the site to accommodate a modern Chinese-style courtyard space.
The interventions aim at preserving the look of the buildings and restore their original appearance while improving aesthetic and practical qualities.
Indigenous communities were resettled nearby to prevent emotional severing from their original site of dwelling. Interaction spaces for local people and job-creation for these communities are also going to be implemented as part of the overall strategy.
CHIASMUS Partners
The studio was established in 2005 and has offices in Beijing and Seoul. In the past eight years it has realized different projects both cultural and commercial.
James Wei Ke is a partner and co-founder of Chiasmus. His work includes publications, teaching, and multidisciplinary studies on bridging the gap between space and human behavior. He has taught at Columbia University and Tongji University.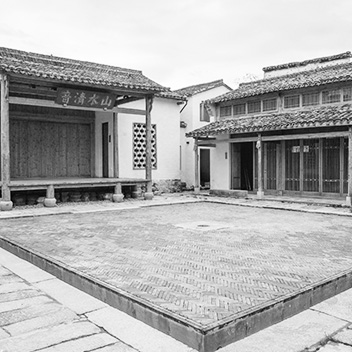 Bishan Crafts Cooperative
Rethinking Rural Cooperatives as Cultural Hubs
Located in Bishan Village (Anhui province) the Bishan Crafts Cooperative project aims to revive the value ecosystem of ruralism by way of an integrated programming focused on local culture, the revitalization of its intangible heritage and built environment.
In May 2015 the project team secured rental of the 1964 Bishan Supply and Marketing Cooperative from the villagers. Following two years of renovation the rebranded cooperative opened to the public in March 2017 and has since been site of various public activities to encourage refreshed interactions among local dwellers as well as out of towners, and reactivate its communal socio-economic purpose.
In 2018 the Cooperative opened its first off-site space in the city of Xi'an.The project hopes to bring renewed perspective to the 'rural imaginary', unhinge it from the nostalgia typecasting country and city as dichotomous placeholders for tradition and modernity, and rather explore them as dynamic constructs in mutual shaping.
Bishan Crafts Cooperative Project Team
Founder: Zuo Jing
Co-Founder: Wang Yong
Design Team: Liang Jingyu (Architect), Shen Run (Architect)
Installation Design (Venice): Yang Linqing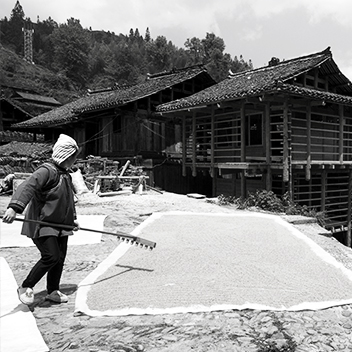 The Guizhou Project
Rethinking Cultural Heritage as an engine for Rural Regeneration
The Guizhou Project is a multifaceted enterprise resulting from the ongoing interaction between designers from ATLAS studio and the community of Dali villagers in rural Guizhou.
The remoteness of this rich natural region had protected it from the degrading effects of accelerated growth over the past four decades. It also remains home to autonomous groups like the Dong and Miao people, whose traditions are endangered by the current nation-wide prompt towards infrastructure and business upgrading in the tourism sector.
ATLAS has been working in collaboration with the Global Heritage Fund to leverage the historic heritage of Dali village to enhance efficiency and concomitantly preserve its vernacular resilience. Focusing on the textile traditions that are rich in the region, they have worked with the local community of craftswomen and in May 2018 they completed the realization of a crafts centre in collaboration with local carpenters, for use of the local cooperatives and villagers alike.
ATLAS Studio
ATLAS is Ahti Westphal, Jenny Chou, and Catherine McMahon a multi-disciplinary design studio based in Beijing.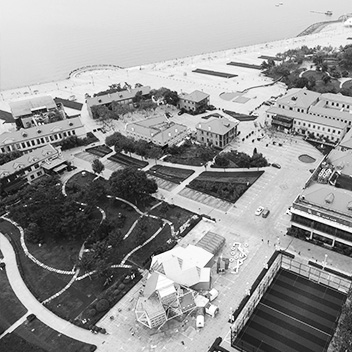 The Kwan-Yen Project
Urban Renewal as Place-Making
Launched in 2016 in the second-tier city of Yantai, the ongoing Kwan-Yen Project conjures cultural and urban regenerative planning to renew the city's positioning through public engagement with its historic identity.
The plan revolves around an historic cluster of more than forty Western-style buildings dating back to the Qing Dynasty, to be implanted with cultural and public programming to refashion it as a destination for both locals and tourists. Core to the intervention is the renovation of a 2000 square meters building destined to become home of the Chefoo Library and Institute (2018) – its satellite branch Suochengli Neighborhood Library (both by Vector Architects) opened in 2017. A temporary pavilion for cultural activities – the Kwan-Yen People's Station – by People's Architecture Office was launched at the same time.
The Kwan-yen project attempts at leveraging place-making via the engagement of different communities, and so collaboratively craft their future interactions and potentialities in and for Yantai.
The Kwan-Yen Project – Project Team:
Yu Yongbo: Chairman of the Board
Tan Fang: Executive Director / CEO
Mu Shujun: General Manger
Ou Ning: Chief Curator / Academic Director
Peng Yanhan: Public Relations
Xu Yijing & Neill Mclean Gaddes: Strategic Planning
Dong Chaomei: Content Director
Vector Architects: Architectural Design
People's Architecture Office: Architectural Design
Xiaoma + Chengzi: Graphic Designers
Zhang Xiao: Artist
Xie Huanxin: Senior Librarian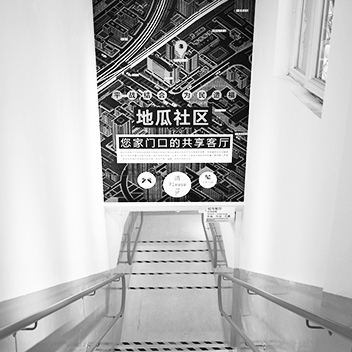 The Digua Community
Economies of Proximity and New Urban Communities
The Digua Community is an experimental social design project transforming unused air defence basement spaces into shared community facilities. The vision at its core is to create a new urban culture of sharing that extends from trust in one's own community.
The project started off as Zhou Zishu's MA dissertation at the University of Arts London, which took him to research the condition of underground leftover spaces in Beijing – an enormous spatial resource amounting to more than 17,000 bunker units, 10,000 of which were originally built as part of Mao's Cold War defense strategy.
The Digua Community is a regenerative project that repurposes such leftovers spaces into multifunctional communal facilities designed to service specific needs of urban dwellers above-ground. The design and refinement of spatial programming is achieved by way of a participatory process that closely involves the neighboring inhabitants in open discussions, co-design and eventually voting.
Digua Community Project team
Zhou Zishu: Founder & Designer
Zhou Ke: Co-Founder & CEO
Guo Xi: Space Designer
Zheng Yan: Media & Marketing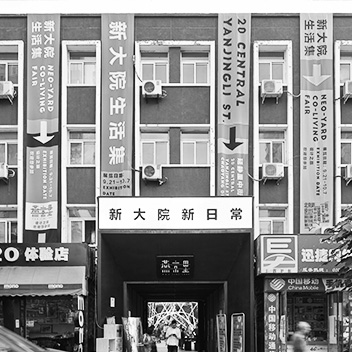 Yanjing Lane / Beijing
Nested Communities – Urban Renewal and Social Remake
The project was initiated by the studio META-Project and Nubis, a new-generation enterprise that supplants its real estate operations with financial services and integrated planning tapping into the ''co-'' prefixed economy of today's unaffordable cities. Co-living and Co-working models are fulfilling needs generated by both the economic pressures of a competitive city, and its social fragmentation. Yanjing Lane is a program of adaptive reuse of a former Dayuan (big yard for communal use) built in the 1960s converted into a mixed-used community for living and working, which has set itself as an experiment in social cohabitation, reactivating the value of civic care and reciprocity between diverse groups that compose the city.
The Neo Yard Co-Living Fair, a two-weeks event launched in 2017 during Beijing Design Week, aimed at prompting meaningful transactions among creative professionals and local residents exploring new modalities of meaningful exchange with talks, forums and on-site events.
META-Project
Founded by Wang Shuo and Zhang Jing, META-Project is a Beijing based practice operating in the fields of architecture, urban research, exhibition and interior design.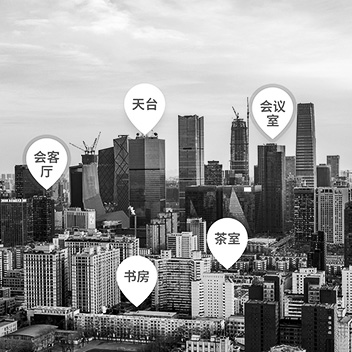 Elsewhere
Sharing the City One Space at a Time
In the words of its founder Fan Yang, Elsewhere is an experiment in 'citytech'. The app and service launched in 2017 is a sharing platform that offers private city spaces for booking by the hour and was born out of his observation of an ostensible lack of high-quality, on-demand workspaces, particularly in bigger cities. Currently operating with more than 400 spaces in Beijing and Shanghai, Elsewhere unfolds the city for its citizens, re-enlivening their appreciation for its unique environments and celebrates the collective inventiveness of both inhabitants and designers. The company has joint forces with architects and creators to customize special interiors further to those that private individuals or business owners have made available on the platform.
Elsewhere is a venture-backed startup company from China's top-tier investors and has partnered with famous brands in China like Didi Chuxing, Zaozuo and Taobao Rental among others.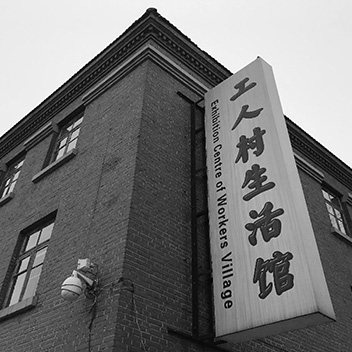 Shenyang New Workers Village / Shenyang
Originally built in 1957 the Workers Village is located in the southwest of Tiexi District in the northern city of Shenyang. It is the largest workers community preserved in China, its core five buildings being the earliest residential compounds to ever been constructed in this type of complexes. In 2007 the Tiexi District Committee decided to preserve this industrial architecture heritage and transformed part of it into a Workers Village Museum. In the process of industrial transformation, a series of social and vocational training centers had been established also, to increase opportunities for new employment or the development of start-ups by local residents.
The current renovation and renewal strategy, still in its early stages, aims at enhancing community and public service functions, diversifying its spatial outlets and programming. These will include Training and Education, Exhibition and Display, Community Business and Lifestyle offerings.
Planner & Organizer:
Beijing Keyi Cultural & Creative Enterprise Management Co./ Wu Wenyi
Design team:
MAT Office / Tang Kangshuo, Zhang Miao
Institute for Culture Creativity / Tsinghua University-Zhou Jialun
Beijing Keyi Cultural & Creative Enterprise Management Co. / Wu Wenyi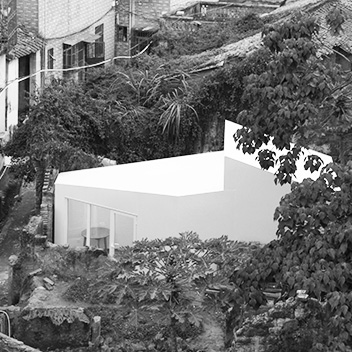 Plug-ins
Alternative Urban Upgrades and the Future of Housing
The Plugin system is high quality and energy efficient affordable housing for the masses. Developed by People's Architecture Office this panelized system incorporates insulation, interior and exterior finish into one molded part. They attach to each other with an integrated lock making construction simple enough to be completed by unskilled people with one tool in one day. The flexibility and ease of construction make it particularly suited for sites that are difficult to build on.
Started in 2013 as a pilot project for alternative renovation of historic hutong courtyard houses in Beijing, it came as a response to phenomena of tabula rasa demolition and forced population relocation, severing social ties in communities, and erasing traces of a rich and tumultuous history.
A number of Plugin Houses have been constructed around China including those commissioned by residents in Dashilar, in urban villages in Shenzhen, and in rural Guangzhou.
People's Architecture Office
Founded in 2010 and based in Beijing, PAO believes innovation solution in architecture must offer a sense of well-being to people who interact with it. PAO approaches design from the framework of the realities of scale, global economics and flows, mass production, mass markets and social networks.
Partners: He Zhe, James Shen, Zang Feng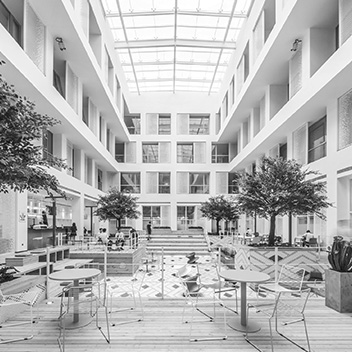 Qingnianlu Boonself Youth Apartment
Adaptive Reuse and Millennials' Communities
MAT Office's Qingnianlu Boonself project is a responsive strategy of spatial reuse designed to cater to short-term tenants with limited disposable income, which blends quality residential and communal facilities within an unused building complex on the eastern outskirts of Beijing 5th ring road.
Originally built to host a leisure club with an office park and an underground hot-spring swimming pool, the site was never effectively used. The spatial transformation takes advantage of a 16 meters-high atrium to harvest natural light for the above ground apartments – 233 rooms in all – and the below shared working space. The swimming pool bed at the centre of the building becomes the gravitational heart of the redesigned complex as a communal space playing host to shared facilities including cafes, reading rooms and events spaces where residents can meet and socialize, so opening up a dimension where interaction and bonding among the dwellers can spontaneously happen.
MAT Office
Founded by Tang Kangshuo and Zhang Miao, MAT Office is a research and design studio started in Rotterdam and now operating in Beijing. With an interest in the study of socio-spatial transformations in current day China and their global resonance.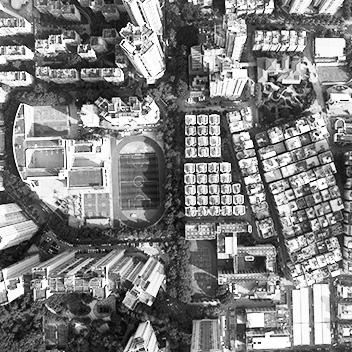 Shuiwei International Town
An Affordable Housing Community for Young Professionals
As growing economic pressure and soaring costs of living impinge on younger demographics forcing them out of big cities, architects from Doffice have reinjected strategic purpose to an existing building stock of 35 'handshake towers' within Shuiwei urban village, Shenzhen, by converting it into affordable housing. Handshake towers are typical formations of urban villages – mini-residential high-rises of 9 by 12 that are compactly configured to the point that the distance between towers is as small as 2.5 meters.
The Shuiwei International Town is an unprecedented project where the municipal government has for the first time leased properties from local villagers.
The re-organizing strategy provides hierarchy to this maze of 14 alleys in-between the towers and
activates the underutilized areas with public life and communal spaces. The transformation has generated a total of 504 apartments with 18 different typologies ranging from 12,5 to 45 sqm for a population of 900 young professionals.
Doffice
Doffice is founded by Chris Lai and Jasmine M.Y. Tsoi and since 2007 operates from Shenzhen.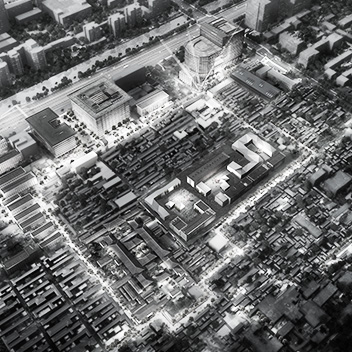 Regeneration Plan for the Qinglong Hutong Community / Beijing
The Qinglong Hutong community area is home to 11,000 people with an extremely high population density. A typical family of 3 shares a 10-15 sqm apartment often built with low quality materials and poor insulation. The extremely high demand for space has caused self-driven expansions of the existing building mass, leaving little room for public outdoor areas.
In line with the Beijing Master Plan 2035, the proposed Qinglong Hutong renovation program targets the demand for increasing living standards of local residents, while turning the Hutong area into a livable urban space to benefit inhabitants encouraging them not to not abandon their living premises. The proposed design method redubbed "qinglong-loop" was developed by studying the complexity of the layers characterizing this historic area. Three key factors were examined: mobility, urban spaces and water/utilities, with the aim to build a sustainable social and cultural ecology inherited from the past.
Design Team:
Archiland A/S specializes in environmental design, waste management and sustainable traffic system analysis. It is composed by a team of multidisciplinary designers and researchers in the fields of urban and landscape planning.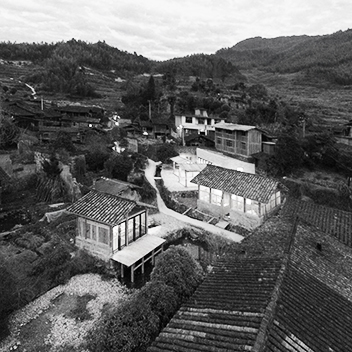 The Shangping Village Regeneration Project
Rural Place-making, Eco-tourism and Cultural Planning
Started in 2016 and currently reaching its second phase, the regeneration strategy for Shangping Village in the southern province of Fujian, aims at leveraging renewed engagement with its profound historic traditions and Hakka culture, whose families' ancestors date back to the Han Dynasty. The studio has implemented an upgrading of services and facilities to complement the existing tourism-driven infrastructures and ameliorate the business ecology of local produce and artifacts.
The first stage of the project focused on three core areas within the village (Shuikou, Tai Fu Tai Mansion and Yang's School) with architectural interventions limited to abandoned or unused agricultural buildings like utility rooms, barns and cowsheds. The studio has operated in careful consideration of the original landscape while implanting site-specific art installations and new functionalities, design of souvenirs inspired by its historical buildings and rebranding for local products so to gradually encourage inbound cultural tourism.
3andwich Design / He Wei Studio
Founded in 2012 and based in Beijing, the studio works across design disciplines and research exploring localization as a meaningful dialogue informed by cultural, environmental and human factors.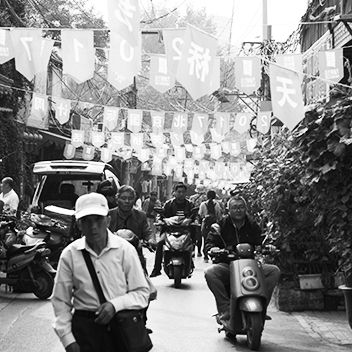 The Tianqiao E Life Project / Beijing
The project is a long-term regeneration strategy for the Tianqiao historic area, a southern hutong district in central Beijing – a vibrant neighborhood where traditional crafts and different operatic styles, as well as street and performing arts flourished during imperial times.
Tianqiao E Life focuses on the area's original identity as a popular centre for leisure and entertainment to connect its past and contemporary quotidian dimensions. The first steps were undertaken in 2017 and launched during Beijing Design Week with a series of site-specific interventions that implanted newly designed communal spaces as pilot projects – a common kitchen, a bathhouse, a mini hub for community management and a healthcare centre. The plan aims at using the large theatre complex in the area as a catalyst to attract younger professionals in relevant industries while engaging locals in a co-actualized form of revival.
Tianqiao E Life Project Team
Planner & Organizer:
Beijing Keyi Cultural & Creative Enterprise Management Co. / Wu Wenyi
Design team:
CU Office / Che Fei, Zhang Xuefeng
Archstudio / Han Wenqiang
MAT Office / Tang Kangshuo, Zhang Miao
A9 Studio / Zhou Yufang
TAOA Studio / Tao Lei
HyperSity Studio / Shi Yang
Beijing Keyi Cultural & Creative Enterprise Management Co. / Wu Wenyi
H&J INTERNATIONAL / Peter Li, Guo Yanan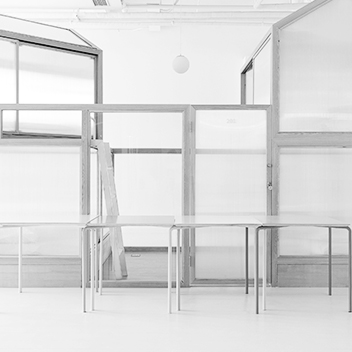 The Together Hostel / Beijing
Tent City – Indoor Camping Space and Belonging on the Move
The project was commissioned by ttg, a Chinese company in the hospitality and real estate sector for younger generations of travellers. Occupying 1600 sqm of an entire floor in an existing building, The Together Hostel takes inspiration from the itinerant gregarious atmosphere of music festivals. Tent-like lodgings for sleeping are scattered through the interior, while communal facilities for cooking, working and other leisure activities are plugged in for visitors to share and connect, turning travelling into a new form of social bonding.
Tent City is an online game designed to engage the hostel's residents in meaningful activities. The game is set in a future where buildings grow exponentially, and Tent Cities reside within their floors. Guests can check in by filling a form to pick and customize tents' desigs. Collected data is currently used to generate an initial map while real-life events are organized through online platforms like Wechat. blending a place-both physical and virtual.
Common Design Studio
An architecture and product design practice based in New York City, it was founded by the award-winning architect and rock-band member Cao Pu and Cui Ruoxi, an interior designer interested in experimental fabrication and the emotional dimension of space.